el rolePlayingGame

It ocurred to me recently that any jackass can slap together a role-playing game these days; get a decent engine, pick some rules, and write up a hackneyed plot about a young, inexperienced character who must strike out into the world, exploring and gaining experience before laying the smack down on the Big Bad Nasty. Being a jackass, I thought to myself, "Self (haha what a comedic device!), why not get in on this action? So that's exactly what I set out to do.



The game:
CRAWWWWWWWLLLINNNGGGG INNNNNNN MY DUNGEOONNNNNNNNN



The first thing to do when designing the next hot RPG is to write the story. Now, I believe in writing what you know, and what do I know better than myself? Therefore the only playable character in this game is elcyberGoth. Here's a mock up of the paper doll:




I know my digital manliness is overwhelming, so let's go over the important parts displayed here:

Armor and clothes and stuff - this kind of stuff is really important in an RPG, because otherwise you have to run around naked and that only works for RPGs from Japan. However notice that in this game pants are strictly forbidden. If in fact you try to put on pants your computer will grow wings and fly to Cuba, so don't be an ass and give computers to those fucking commies.
Bow and arrow - for facilitating the shooting of shit. I made the arrows multicoloured because it's so pretty.
Codpiece - since there's no slot for hand-to-hand weapons, close quarters combat is done using only my rugged leathery penis. A basic vanilla penis will take down large bears and cheerleading teams, however for the really big dragons and stuff you'll need some extra help, which is where the codpiece comes in. This particular item is the Codpiece of Infinite Ninjatude, which is awesome.
The hair of Ted Danson - no force in the universe is more powerful than the Hair of Ted Danson. Wear it and become a god, not only in the game but in real life as well. It can only be found in the add on pack, CRAWWWWWWWLLLINNNGGGG INNNNNNN MY DUNGEOONNNNNNNNN: Hat Shoppe of Doom.

So my character is all set, now for the story. Any good RPG story needs inspiration, and so does mine. What I decided to do was base the story entirely around quotes from this Message board about Linkin Park. I felt that by tuning into today's youth culture I could really connect with my target audience, and that means bling bling ya'll$$$. So here's the set up text for the game:


The land of Hoppydogfundia was peaceful and content. The good King Tallywacker ruled fairly, with minimal barbarism. But all that changed when the evil bovine Balky the Cow returned from millenia trapped in space. And he didn't come empty handed.

"Hoppydogfundia has not yet experienced true rapture," he said, "Linkin Park is awsome. It's the only rap band i can stand listening to. I just hope they won't become like Limp Bizkit."

Horrified, the king issued a promclaimation: "Linkin Park are gay they r the shittest band ever they r like pop metal if anything and id like to kick them in the nuts if they have any"

An incensed Balky the Cow responded, "YOU PEOPLE MAKING COMENTS AND JUDGEMENTS ABOUT LINKIN PARK I'M SURE YOU'VENEER HEARD THERE ALBUM ALL YOU HAVE PROBABLY HEARDIS CRAWLIN AND IN THE END. HY DON'T YOU TRY LISTENING TO THE ABLUM BEFORE TALKING SH*T! i THINK THEY ARE THE HOTTEST SH*T OU THERE!"

And with that set out to distribute Linkin Park CDs to the entire kingdom.

elcyberGoth, a young farmer / baker / kiddy porn maker, saw what was happening to his land and was dismayed. But what could he do? Then, a spooky magical shrimp salad with strong opinions on the propogation of culture came to him and said, "I think Linkin Park are cunts" It also told elcyberGoth that he was destined to stop this madness, and only he would be able to stop Balky the Cow.

Powerful stuff, isn't it? I sent it to my mother and it brought her to tears it was so good.

Story complete, it was time to decide what the game would be like. I licensed the Baldur's Gate engine since that's what everyone else does, however I threw out that lame D & D crap in favour of my own custom rule set. Basically what happens is any time you hit something the game emails my buddy Davin and asks him what the outcome is. Thus you can get a "hit" "miss" or "what the fuck".

I've already coded up a couple scenes. Here's the pivotal meeting with the magical shrimp salad with strong opinions on the propogation of culture: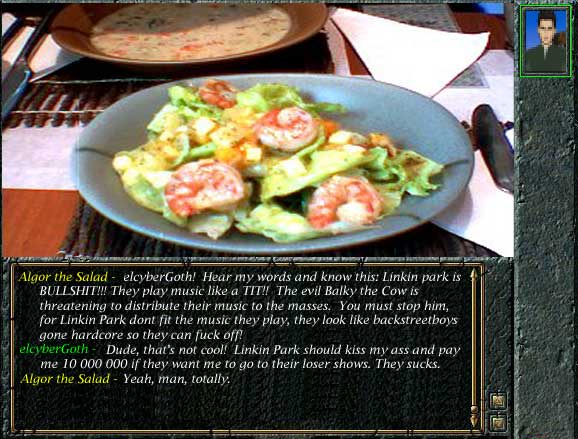 You can see from this screenshot that it hardly even looks like Baldur's Gate, as I am commited to creating a unique experience for this game.

I've also done some preliminary in game artwork. I've been spending many hours working on meticulous hand drawn textures, ensuring gorgeous visuals for gamers. I've also been working on sound effects, mostly by using some .WAV files I found in My Documents. As a result every character in the game sounds like Homer Simpson asking where the Any Key is, which is good because the Simpsons are cool.

I really shouldn't do this, but here's a sneak peek at the final boss fight: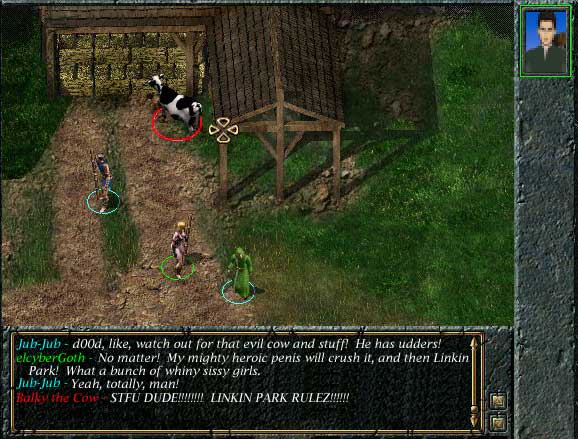 Note that in the game I'm represented by a big-titted bikini blonde, because that's what everybody plays as in RPGs anyway. Also, you can't tell from this pic, but that is one hardcore cow.

And that concludes my exclusive preview of CiMD. Run, don't walk to your local games boutique starting June 2034!